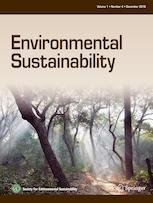 Journal
Launched in 2018 as the first journal focused on all aspects of environmental sustainability involving green technologies is copyright of the society of Environmental Sustainability and being published by Springer (https://www.springer.com/environment/sustainable+development/journal/42398).
The Environmental Sustainability is one of the major concerns of all the nations on this planet and will remain so in future as well. Issues related to sustainability of ecosystems/ habitats/ planet as whole are of paramount importance. The use of sustainable approaches involving biological systems, biotechnological tools and methods can shape the development in future maintaining the sustainability of our environment.
Following are the links of four issues of the journal "Environmental Sustainability" published so far:
Volume 1
Volume 2
Volume 3
Volume 4
Volume 5
Volume 6
The journal covers diverse aspects related to environmental sustainability and sustaining diversity of life on our planet. The journal will be focusing on diverse issues related to environment. It will cover an array of topics which are very contemporary and important in relation to sustainability of our planet:
Sustainable Agriculture:Bioinoculants, Biocontrol agents, Plant Growth Promoting Rhizobacteria, Beneficial Soil Fungi, Crop Protection, Organic Farming.
Biodegradation and Bioremediation:Biodegradation of Recalcitrant and Xenobiotics, Bioremediation of Contaminated Sites and Ecosystems, Heavy Metal Contamination and its Remediation.
Stress Management:Combating Biotic and Abiotic Stresses, Climate Change and Stress on Diverse Ecosystems, Stress Physiology, Management of Stresses in Plants by using Microorganisms.
Plant-microbe Interactions:Rhizosphere Biology, Phytopathology, Plant Defence Response, Novel Techniques, Proteomics, Metagenomics, Metabolomics, Endophytes, Mycorrhizal Fungi, Biomonitoring & Biomarkers, Plant Microbiome.
Organic Food Production:Biofortification, Constraints in Production and their Management, Climate Ready Crops, Innovative Practices for Organic Food Production, Microbes in Food Production.
Environmental Microbiology:Aquatic Ecosystems and their Exploration, Biofuels, Microbes in Metal Recovery, Extremophilic Diversity and their Applications.
Pollution Management:Combating Global Warming, Waste Management, Air and Water Pollution.
Sustainable Management of Polar Regions:Dynamics, Evolution and Health or Polar Environments, Potential uses of Polar Genetic Resources.